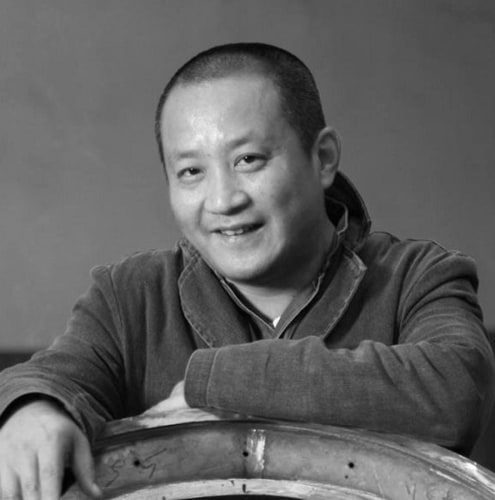 Shi Jinsong was born in Hubei, China, in 1969. He graduated from the Hubei Institute of Fine Arts with a BFA, specializing in sculpture, in 1994.
Shi Jinsong pontificates on the contemporary state through his mixed media installations and sculptures that draw on traditional aesthetics. His seminal body of stainless steel work consists of parodies of objects associated with comfort and nurture – baby carriages, a child's rattle – menacingly crafted in razor-sharp blades. Shi maintains a dialogue that juxtaposes globalization and consumerism with mythic cultures from the past, often diffusing the conversation with a jocular sensibility.
In early 2015, Shi Jinsong presented a solo show at Klein Sun Gallery titled Free Download. Composed of a series of installations, the exhibition's focus was a free-floating set of branches scavenged from New York and Connecticut. Detached from their trunks, the limbs were suspended from the ceiling, their kinetic energy catalyzed by the tug of a string or a gust of wind. The piece was accompanied by a set of instructions encouraging visitors to create a similar installation of their own, subverting the conventions of artistic copyright and provenance. In the same room, doctored copper chairs and tables were assembled, their functionality interrupted by Shi Jinsong's commentary on utilitarian objects rendered useless by aesthetic beauty. In his latest works, Shi continues to explore the nullification and transformation of social regulations.
His work has been the subject of solo shows including Free Download, Klein Sun Gallery, New York, NY (2015); Art Materials Company Owner's Garden, Phoenix Art Center, Shanghai, China (2014); Scenes from an Unpredictable Theatre, Mind Set Art Center, Taipei, Taiwan (2012); Penetrate, Today Art Museum, Beijing, China (2011) and Jamsil, SOMA Art Museum, Seoul, South Korea (2010). His group exhibitions include The Exhibition of Annual of Contemporary Art of China 2014, Minsheng Art Museum, Beijing, China (2016); Chinese Whispers: Recent Art from the Sigg and M+ Collection, Kuntmuseum Bern, Bern, Switzerland (2016); All the World's Futures: Creating Identities, La Biennale di Venezia, Venice, Italy (2015); Myth/History, Yuz Museum, Shanghai, China (2014); A First Life Residency Project in Landscape, Xin Dong Cheng Space for Contemporary Art, Beijing, China (2011); Beijing Voice, Pace Beijing, Beijing, China (2010); Christian Dior and Chinese Artists, Ullens Center for Contemporary Art, Beijing, China (2008); and Mahjong: Contemporary Chinese Art from the Sigg Collection, Kunstmuseum Bern, Bern, Switzerland (2005).

His work is in major institutional collections around the world including the Fondation Louis Vuitton, Paris, France; Groninger Museum, Groningen, The Netherlands; Uli Sigg Collection, M+ Museum, Hong Kong; and the White Rabbit Collection, Sydney, Australia.
Shi Jinsong lives and works in Wuhan and Beijng, China.