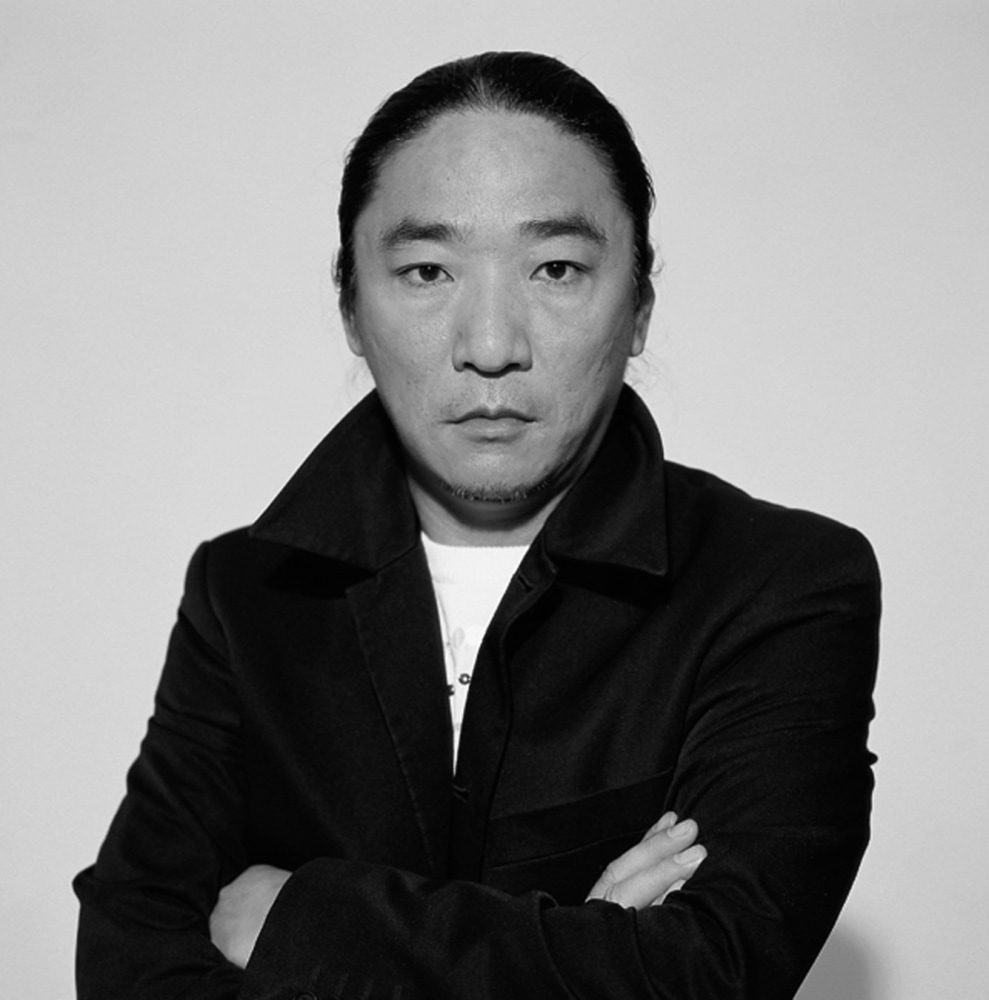 Ling Jian was born in 1963 in Shandong, China. He graduated with a BA from the Fine Arts Department of Tsinghua University Art College, Beijing, in 1986. Drawing from preconceived notions of female beauty and Chinese identity, Ling Jian's portraits of women are both hyperreal and exaggerated.
Ling moved from China to Europe in the late 1980s, a geographical transition which led to the artist's experimentation with the body and performance art. Ling circles his practice around mass consumerism and society's hypocritical stances on beauty ideals through various painting methods. His series of painted women are both kitsch and politically charged; their style and compositions drawn from traditional Western portraiture. Using conventionality as a framework for which to comment on society, he enlarges the eyes or reddens the lips, highlighting the hypocrisy of beauty standards, sexuality and political drama. Recently, his painting series of sharks evolve this idea further, with vague erotic themes cutting through the aggressive, feral imagery.
Ling Jian's work has been exhibited in solo shows including Ling Jian, Jue Lan Club, New York, NY (2016); Song of the Ancient Birds, Tang Contemporary Art, Hong Kong (2016); Nature Chain, Klein Sun Gallery (2015); Brain and Heart, Gana Art Center, Seoul, Korea (2014); Moon in Glass, Ullens Centre of Contemporary Art, Beijing, China (2011); and Moon in Glass, Today Art Museum, Beijing, China (2010). Group shows include On Sharks and Humanity, Parkview Square, Downtown Core, Singapore; Hong Kong Maritime Museum, Central, Hong Kong (2017); Mutual Supplementary and Wedge, Shanghai Liu Haisu Art Museum, Shanghai, China (2017); Observation/ Reference/ Gesture Contemporary Painting, Ringling College of Art and Design, Sarasota, FL (2016); On Sharks and Humanity, National Museum of China, Beijing, China (2015); Face, Minsheng Art Museum, Shanghai, China (2012); Changing Vistas: Creative Duration, The 5th Chengdu Biennale, Chengdu, China (2011); Lovers Pieces – Contemporary Art from Five Private Collections, Kunstmuseum Muheinm an der Ruhr, Mulheim, Germany (2010); MEDIALE, Deichtorhallen: Center for Contemporary Art and Photography, Hamburg, Germany; and at the Chinese Oil Painting Biennale, National Art Museum of China, Beijing, China (1993).

Ling Jian currently divides his time between Berlin, Beijing, and Hong Kong.