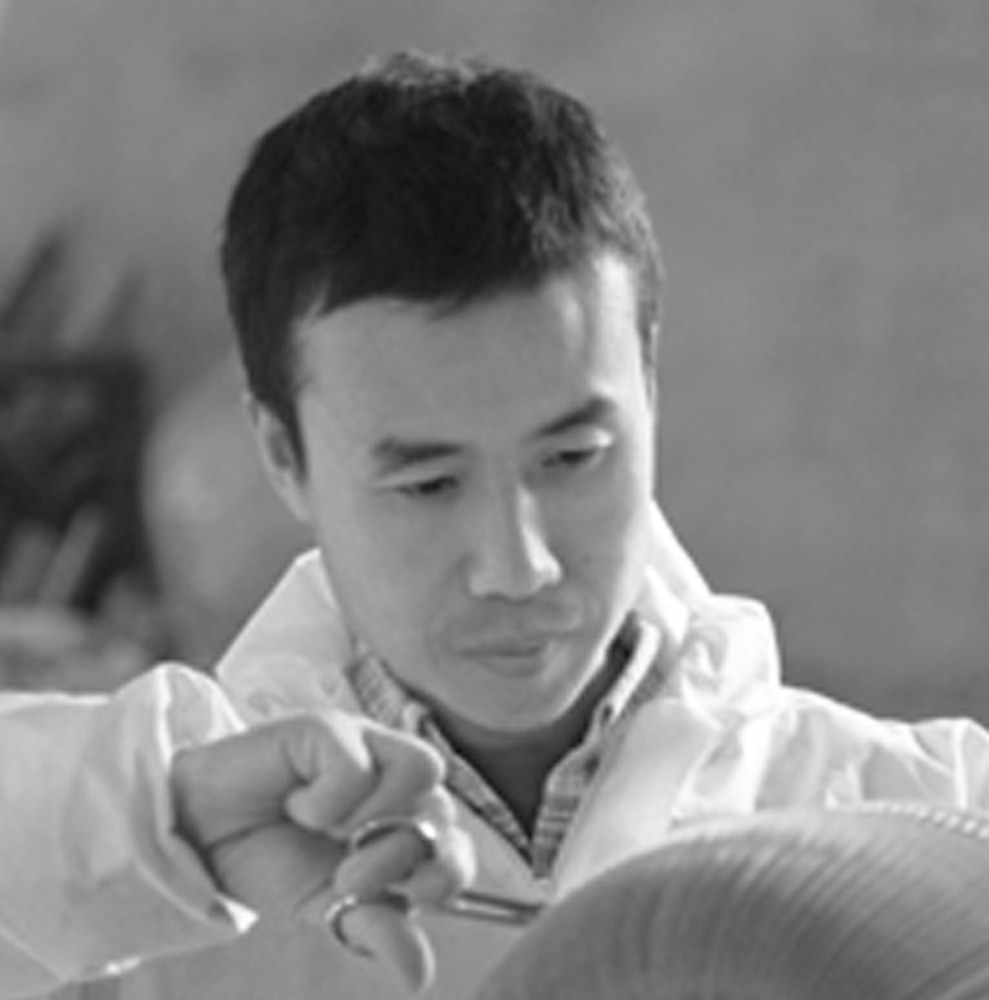 Li Hongbo was born in Jilin, China, in 1974. He earned his Bachelor of Fine Arts from Jilin Normal University, Jilin, China, in 1996. He then earned his first Master of Fine Arts in 2001 from the Folk Art Department of the Central Academy of Fine Arts in Beijing and concluded his formal education with a second Master of Fine Arts from the Experimental Art Department of the same school, in 2010.

Li Hongbo is best known for his interpretations of paper. His reinvention of the material's form challenges viewers' expectations of the medium as an artistic vehicle. Utilizing an age-old honeycomb technique seen in paper gourd making in China, Li creates kinetic paper works which elegantly expand, contract, and retract. These sculptures hint at influences of folk traditions in China, but in contemporary light play upon perceptions and the visual language of a mercurial medium that has stood the test of time.

Li's solo exhibition Tools of Study (2014) inaugurated Klein Sun Gallery's space in Chelsea, New York, to critical acclaim. Staged like an institutional assembly of classical sculptures, the exhibition was activated through participation – with one simple tug, a bust revealed layers and layers of paper that unraveled like a slinky. Li's second exhibition at Klein Sun Gallery, Textbooks (2016), continues his study of paper through examination of school literature.

His work has been the subject of solo museum shows around the world including The Child with Scarf, Asia Society Hong Kong Center, Hong Kong (2020); Li Hongbo: Bloom, Islamic Art Festival, Maraya Art Centre, Sharjah, United Arab Emirates (2019); Li Hongbo: Rainbow, China Paper Art Research Institute, Jilin Normal University, Jilin, China (2018); Made in China - Li Hongbo Solo Project, Museum of Contemporary Art Yinchuan, Yinchuan, China (2018); Li Hongbo: The Plastic Models that We Have Painted, Beijing Normal University Jingshi Art Museum, Beijing (2017); Quand La Sculpture Devient Créature, Musée du Papier, Angoulême, France (2017); Ocean of Flowers, Eight One Art Museum, Beijing (2017); Li Hongbo: Irons for Ages, Flowers for Days, SCAD Museum of Art, Savannah, Georgia (2015); Li Hongbo - Out of Paper, Kunstverein Ludwigsburg, Ludwigsburg, Germany (2013); and The World -Li Hongbo New Works Exhibition, Found Museum, Beijing (2011).

His work has also been exhibited in museum group shows including A Tribute to Tradition: A Tour Exhibition of Contemporary Paper Art Works, Today Art Museum, Beijing (2020); Clouds Gathering and Unfolding: An Exhibition of Modern Chinese Art on Paper, Ichihara Lakeside Museum, Ichihara, Japan (2020); Guns to Roses: From the Maitland Regional Art Gallery Collection, Maitland Regional Art Gallery, Maitland, Australia (2020); Emerging Dimensions: Works by Li Hongbo and Cai Dongdong, Pauly Friedman Art Gallery at Misericordia University, Dallas, Pennsylvania (2019); Transformative Creation: 5 Artists from China, Oscar Niemeyer Museum, Curitiba, Brazil (2019); Havana Biennial: From Chinoiserie to Contemporary Art, Havana, Cuba (2019); Memento Mons - Cabinets of Curiosities, Musée des Beaux-Arts (BAM) Mons, Mons, Belgium (2019); Beijing: Jeollabukdo Express, Jeonbuk Museum of Art, Jeonju, South Korea (2019); The Splendid Language of Paper - Contemporary Art on Chinese Paper Making Culture, Zhejiang Art Museum, Hangzhou, China [itinerary: Naples National Archaeological Museum, Naples, Italy] (2019); A Gift to 60th Year - The First Paper Art Exhibition of Chinese Paper Art Research Institute of Jilin Normal University, Jilin Normal University, Jilin, China (2018); Emergence, Toronto Centre for the Arts, Toronto (2018); Alter Ego, Macau Museum, Macau (2018); The Sixth National Youth Art Exhibition, National Art Museum of China, Beijing (2018); Following Growth: The CAFA Art Museum Graduate Collection and Recent Works, Central Academy of Fine Arts Museum, Beijing (2017); Reciprocal Enlightenment, Central Academy of Fine Arts Museum, Beijing (2017); Deep Cuts, Currier Museum of Art, Manchester, New Hampshire (2017); Children of Hangzhou: Connecting with China, Young at Art Museum, Davie, Florida (2016); TRANS-DESIGN 2016 Shanghai Art & Design, West Bund Art Center, Shanghai (2016); CODA Paper Art, CODA Museum, Apeldoorn, The Netherlands (2015); Forever Young, Asia University Museum of Modern Art, Taichung, Taiwan (2015); Metaplasia - La China Ardente: Monumental Contemporary Sculptures, Anciens Abattoirs, Mons, Belgium (2015); FLOW_1: Italian and Chinese Contemporary Art in Dialogue, Palladian Basilica, Vicenza, Italy (2015); Experimental Art, Central Academy of Fine Arts Museum, Beijing (2014); Stacked & Folded Paper as Sculpture, The Dennos Museum, Traverse City, Michigan (2014); Confronting Anitya, Palazzo Michiel, Venice, Italy (2013); PaperWorks: The Art and Science of an Extraordinary Material, Berkshire Museum, Pittsfield, Massachusetts (2013); Hot Pot, Brattleboro Museum, Brattleboro, Vermont (2013); All Our Relations, 18th Biennale of Sydney, Australia (2012); Harmonious Differences - Second Experimental Art Exhibition, Central Academy of Fine Arts Museum, Beijing (2011); Journey of a Thousand Miles, Central Academy of Fine Arts Museum, Beijing (2010); and The Big Bang, White Rabbit Collection, Sydney (2010).

Li Hongbo's work is in the public collections of the White Rabbit Collection, Musée du Papier, Asian Civilization Museum, Maitland Regional Art Gallery, Artemizia Foundation, Dr. Stanley Ho Foundation, Central Academy of Fine Arts Museum, National Art Museum of China, Wuhan Art Museum, Hubei Art Museum, Wuhan, Shandong Art Museum, 53 Art Museum, Found Museum, United Bank of Switzerland, and 21c Museum Hotels.

Li Hongbo has been the recipient of several prestigious awards throughout his career. Most recently he received the Nomination Award from the China Government Publication Awards, and in 2017 he won Grand Prize from the Sovereign Asian Art Foundation.

Li Hongbo currently lives and works in Beijing.