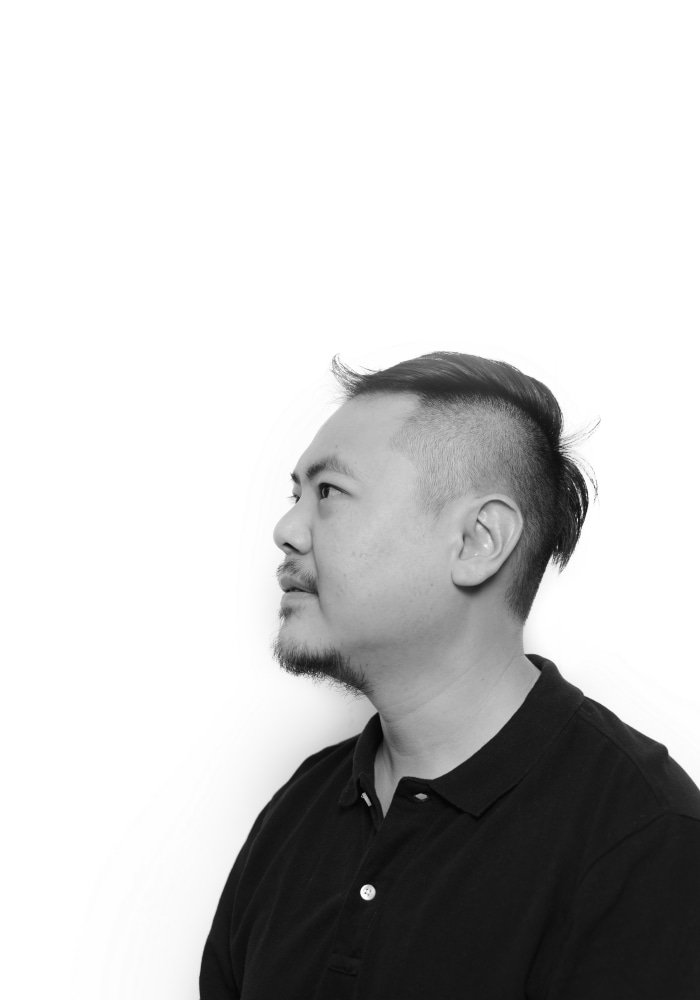 Chow Chun Fai was born in 1980 in Hong Kong where he still resides. Fai graduated with a BFA and MFA from the Chinese University of Hong Kong and currently teaches painting there. In addition to being a world-renowned artist, Fai is also a recognized political activist. He is the chairman of Fotanian Artist Village and in 2012, Fai ran, unsuccessfully, for a cultural post in the Hong Kong Legislative Council Election.
Through Fai's series "Hong Kong Taxi" and "Hong Kong Street," he depicts the city landscape from the perspective of a Hong Konger. In his most recent series "Painting on Movies," Fai paints cutscenes and their matching subtitles from classic Hong Kong movies from the New Wave cinema movement, and most recently notable International films. Capturing diversified movie scenes, the artist encloses the perplexing local culture of Hong Kong, especially the emergence of social tension generated by the sociopolitical upheaval in Hong Kong since 1997 through his paintings. Appropriating many of the movies that encapsulate collective memories among the Hong Kongers, Fai reveals the struggle and the anxiety experienced by the city in response to the critical, yet unsettled, question of localness and identity that continually redefines Hong Kong.
Chow Chun Fai's solo exhibitions include Portraits from Behind, Gallery Exit, Hong Kong (2020); CHOW CHUN FAI, Eli Klein Gallery, New York, NY (2018); Everything comes with an expiry date, Klein Sun Gallery, New York, NY (2016); CHOW Chun Fai: I Have Nothing to Say, Hanart TZ Gallery, Hong Kong (2015); Cultural Rights-Artist Running An Election, the Hong Kong University of Science and Technology, Hong Kong (2013); Special Feature: Chow Chun Fai's Painting on Movie, Times Square Open Piazza, Hong Kong (2012); Reproduction of Reproduction, Hanart TZ Gallery, Hong Kong (2009); Sichuan Hot!, Griffith Artworks, Ray Hughes Gallery, Sydney, Australia (2009); Shanghai Tan-Paintings by CHOW Chun Fai, Aike-Dellarco, Shanghai (2008); China International Gallery Exposition, Beijing, China (2008); Chow Chun Fai Paintings Videos Photography, Hanart TZ Gallery, Hong Kong (2008); Paintings by CHOW Chun Fai, State of Arts Gallery, Hong Kong, China (2004); Young Artists' Exhibition-Paintings, Grass, Ceiling-Paintings by Chow Chun Fai, Hong Kong Art Centre, Hong Kong (2003).
Chow Chun Fai's work has also been featured in renowned institutions worldwide including A Chinese Journey, Het Noordbrabants Museum, S-Hertogenbosch, Netherlands (2018); Evolving Images: Modern Hong Kong Printmaking, Sun Museum, Kowloon, Hong Kong (2017); Chinese Whispers Recent Art from the Sigg und M+ Sigg Collections, Kunstmuseum Bern; Venice Meeting Point, Arsenale Venice, Venice, Italy (2015); The Past Continuing, Hong Kong Heritage Museum, Hong Kong (2015); All Are Guests-Homecoming, Hong Kong Museum of Art, Hong Kong (2015); ; Legacy and Creation - Art vs Art, MOCA, Shanghai (2010); Feng Shui Sculptures and Installations, Wooferten, Hong Kong (2010); Liverpool Biennial, Liverpool, United Kingdom (2012); Butterfly Effect - An Artistic Communication Project of Cross-Strait Four-Regions, He Xiangning Art Museum, Shenzhen, China; Charming Experience, Hong Kong Museum of Art, Hong Kong (2009); Made in Hong Kong, Hong Kong Museum of Art, Hong Kong (2008); The Pivotal Decade: Hong Kong Art, Manchester, United Kingdom (2007); China's Next Wave, Munich Germany (2007); and Reversing Horizons, MOCA, Shanghai, China (2007).
In addition to his six published books dedicated solely on the artwork of Chow Chun Fai, The New York Times, Artnews, South China Morning Post, and many other well known International media outlets have spotlighted Fai and his works. In the last 14 years, Chow Chun Fai has been the focus for many Hong Kong media publications (see Bibliography). Fai was awarded the Grand Prize in the Hong Kong Arts Centre 30th Anniversary in 2008, and the Sovereign Asian Art Prize in 2006.