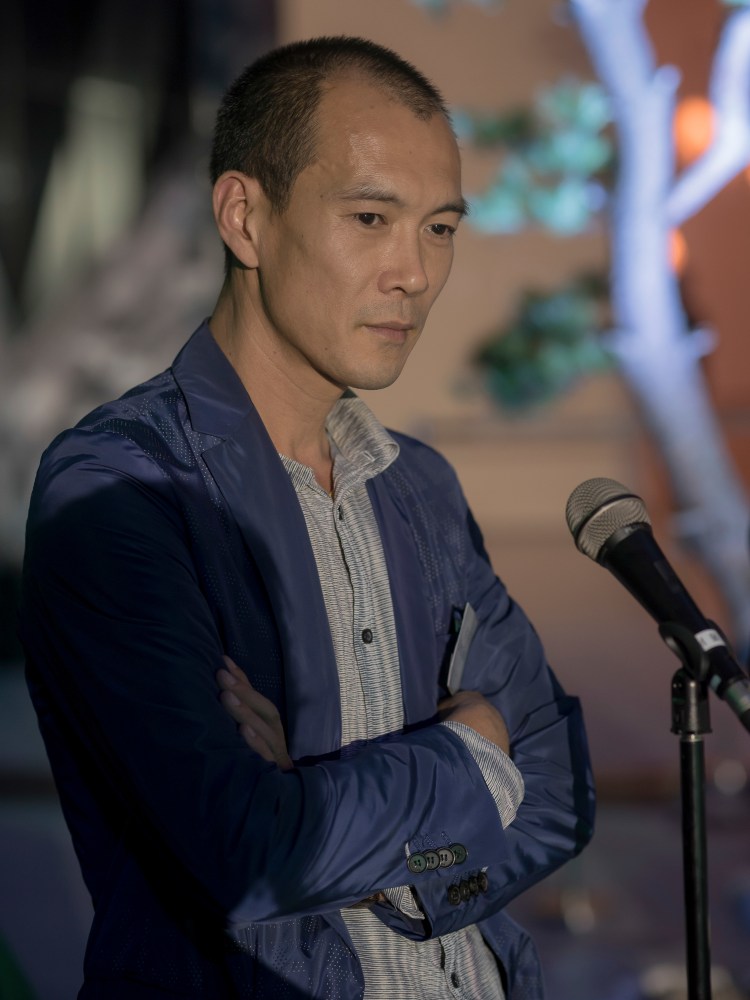 Zheng Guogu was born in 1970 in Yangjiang, Guangdong province of China. He graduated from the printmaking department at the Guangzhou Academy of Fine Art in 1992. Zheng Guogu utilizes performance, photography, painting, sculpture, embroidery and the environment in his work. His ideas have often been born out of a balance between commitment to his hometown, engagement in global contemporary art, and his interest in how consumer culture has impacted Chinese traditions. In 2002, Zheng Guogu, Chen Zaiyan, and Sun Qinglin founded Yangjiang Group, an artist collective focusing on experimental Chinese calligraphy and sculpture. Zheng Guogu began a long-term project in 2004 titled The Age of Empire (after a popular computer game), later renamed Liao Garden in which he has reshaped and built upon land that he purchased near his hometown. The project observes the changing relationship of architecture and the physical land, in relation to the virtual, spiritual, and legal worlds.
Zheng Guogu's recent solo exhibitions include: Zheng Guogu: Visionary Transformation, MoMA PS1, New York, USA (2019); Zheng Guogu: The Winding Path to Trueness, Mirrored Gardens, Vitamin Creative Space, Guangzhou, China (2017); Zheng Guogu: Where energy inhabits?, Galerie Chantal Crousel, Paris, France (2016); Zheng Guogu: Ubiquitous Plasma, OCAT Xi'an, Xi'an, China (2015); Zheng Guogu & Yangjiang Group: The Writings of Today are a Promise for Tomorrow, Palazzo Morozini, Venice, Italy (2015); Action for Tomorrow (with Yangjiang Group), 4A Centre for Contemporary Asian Art, Sydney, Australia (2015); and Fuck off the Rules: Yangjiang Group, Minsheng Art Museum, Shanghai, China (2013).
Zheng Guogu's work has been featured in renowned institutions worldwide including Chinese Whispers: New Art from the Sigg Collection, MAK Vienna, Austria (2019); Art and China after 1989: Theater of the World, San Francisco Museum of Modern Art, USA (2019), Guggenheim Bilbao, Spain (2018), Guggenheim Museum, New York, USA (2018); The 9th Asia Pacific Triennial of Contemporary Art, The Queensland Gallery of Modern Art, Queensland, Australia (2018); Canton Express: Art of the Pearl River Delta, M+, Hong Kong (2017); Unwritten Rules Cannot Be Broken (with Yangjiang Group), Guggenheim Museum, New York, NY, USA (2016); Social Factory - 10th Shanghai Biennale, Power Station of Art, Shanghai, China (2014); Shanshui - Poetry Without Sound? Landscape in Chinese Contemporary Art, Kunstmuseum Luzern, Luzern, Switzerland (2011); Breaking Forecast: 8 Key Figures of China's New Generation Artists, Ullens Center for Contemporary Art, Beijing, China (2009); Images Recalled - Bilder Auf Abruf, 3rd Fotofestival Mannheim_Ludwigshafen_Heidelberg, Germany (2009); The Spectacle of the Everyday, The 10th Biennial of Lyon (with Yangjiang Group), Lyon, France (2009); Sprout from White Nights, Bonniers Konsthall, Stockholm, Sweden (2008); Farewell to Post-Colonialism, 3rd Guangzhou Triennial, Guangdong Museum of Art, Guangzhou, China (2008); Brave New Worlds, Walker Art Center, Minneapolis, USA (2007); Documenta 12, Kassel, Germany (2007); China Welcomes You...Desires, Struggles, New Identities, Kunsthaus Graz, Graz, Austria (2007); The Real Thing: Contemporary Art from China, Tate Liverpool, Liverpool, UK (2007); Guangzhou – Cantonese Artists in the Sigg Collection, Kunstmuseum Bern, Bern, Switzerland (2006); Belief, Singapore Biennale, Singapore (2006); Out of Sight, De Appel Arts Centre, Amsterdam, Netherlands (2005); Follow me! Chinese Art at the Threshold of the New Millennium, Mori Art Museum, Tokyo, Japan (2005); Zooming into Focus - Chinese Contemporary Photography from the Haudenschild Collection, National Art Museum of China, Beijing, China (2005); All under heaven, M HKA, Antwerp, Belgium (2004); Past in Reverse, Contemporary Art of East Asia, San Diego Museum of Art, San Diego, USA (2004); Between Past and Future: New Photography and Video from China, International Center of Photography, New York, Asia Society New York, Museum of Contemporary Art, Chicago, Seattle Art Museum, Seattle, USA, Victoria & Albert Museum, London, UK (2004 - 2005); Book of Changes: Libreria Borges of Gwangju Biennale, 4th Gwangju Biennale, Gwangju, Korea (2002); Cross Pressures, Oulu Art Museum, Finnish Museum of Photography, Helsinki, Finland (2001); Living in Time - 29 Contemporary Artists from China, Hamburger Bahnhof, Museum für Gegenwart, Berlin, Germany (2001); The Sun Rises in the East - the current artistic scene in Asia, Rencontres Internationales de la Photographie d'Arles, Arles, France (2000); IX Bienal Internacional de Fotografía, Centro de la Imagen, Mexico City, Mexico (1999); Biennial de l'imago Paris 98, Centre national de la Photographie, Paris, France (1998); Site Art Project, Walking Museum in Takashimaya, Tokyo, Japan (1998); Site of Desire, Taipei Biennale, Taipei Fine Arts Museum, Taiwan (1998); Photography as Concept - 4. Internationale Foto-Triennial Esslingen, Germany (1998); and Cities on the Move 3, P.S. 1 Contemporary Art Center, New York, USA (1998).
Zheng Guogu's work has been collected by major museums including the Guggenheim Museum; Hammer Museum; The Museum of Modern Art; and M+ Museum, among others.
He received the Best Artist Award by the Chinese Contemporary Art Awards in 2006 and currently lives and works in Yangjiang, China.