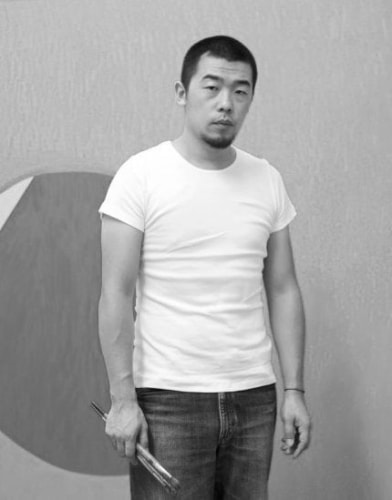 Zhao Zhao was born in Xinjiang, China, in 1982. He graduated with a BFA from the Xinjiang Institute of Arts from the department of Oil Painting in 2003. Zhao Zhao's multidisciplinary body of work is an inspection of China's contemporary profile, and the socio-political consequences of individual human action. His abstract shattered glass paintings reveal a car accident he was involved in, and represents the ripple effect of action; his Safe sculptures substantiate his fellow citizens' paranoid views on security.
Zhao Zhao has exhibited in group museum shows worldwide including JingShen: The Act of Painting in Contemporary China, Padiglione d'arte Contemporanea, Milan, Italy (2016); Zero Tolerance, MoMA PS1, New York, NY (2014); Time is a Saw: Established and Emerging Contemporary Chinese Artists, Crossman Gallery, University of Wisconsin-Whitewater, Whitewater, WI (2014); Humboldt Lab Dahlem, Museum of Art Art, Berlin, Germany (2013); Game of Thrones, Museum für Asiatische Kunst, Berlin, Germany (2013); Individual Growth – Motive Power of Contemporary Art, Tianjin Art Museum, Tianjin, China (2013); FUCK OFF 2, Groninger Museum, Groningen, Netherlands (2013); Duchamp and/or/in China, Ullens Center for Contemporary Art, Beijing, China (2013); ON/OFF: China's Young Artists in Concept & Practice, Ullens Center for Contemporary Art, Beijing, China (2013); China China, Pinchuk Art Center, Kyiv, Ukraine (2013); CAFAM: Future Exhibition, CAFA Art Museum, Beijing, China (2012); 1x1: A Cross-strait-four-regions, Artistic Exchange Project, He Xianging Museum, Shenzhen, China (2011), Hong Kong Arts Centre, Hong Kong (2011), Kuandu Museum of Fine Art, Taipei, Taiwan (2011); Reflections of Minds, MoCA Shanghai, Shanghai, China (2010); 3 + X, Kunsthalle Lophem Center for Contemporary Art, Lophem, Belgium (2010); and No-Name-Station-China, Iberia Center for Contemporary Art, Beijing, China (2010).
Zhao Zhao currently lives and works in Beijing, China.