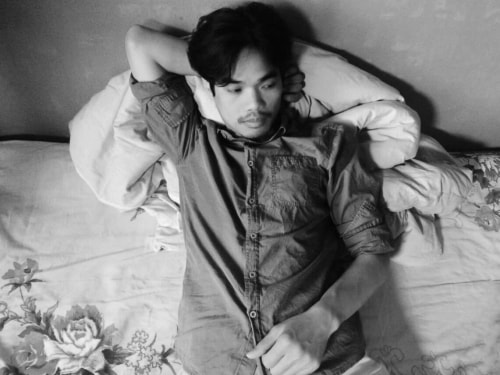 Liang Ban was born in Guangxi, China in 1985. He graduated with a BFA in Sculpture in 2010 from the Guangxi Art Institute in Nanning, China.
Liang's work involves video recording, installations and paintings. His work style almost resembles a lonesome grave digger: in the void of reality, he aimlessly excavates subcultures, pan-images, pseudo-mythologies and other messages to be verified, from the ideology of the universal value, connecting them to the tragedies of individuals and social politics, and converting this information in question to an unknowable 'theatre.' In the process, Liang succinctly fills his works with the poetic and the fictional, provoking in the audience a sympathy towards what is encountered in the reality.
Liang's recent solo exhibitions include, Landscape Browser, de Sarthe Gallery, Beijing, China (2016); and Slightly Confused, Taikang Space, Beijing, China (2016). His recent group shows include The Image Expression in the Art Practice of the New Generation, Xi'an Museum, China (2016); GOOOOOOOOOOOOOOOAL, Goethe Institut, Beijing, China (2016); Turning Point: Contemporary Art in China Since 2000, Minsheng Art Museum, Shanghai, China (2016); In the Dimensionality, Between Art Lab, Shanghai, China (2016); Figure-Image-Drawing and Subject, Tsinghua University Art Museum, Beijing, China (2015); Olhares Interiores, Macao Museum of Art, Macao (2015); Polyphony II--Ecological Survey of Chinese Art - Beijing, Art Museum of Nanjing University of Arts, China (2014); A Room Not One's Own, Space Station, Beijing, China (2014); Self Identity Out of the Land of Experience, Hong Kong Contemporary Art Gallery, Beijing, China (2014); Art Sanya, HIHEY Art Center, Sanya, China (2013); The Speech: The Free Speech from the Artists, CAFA Art Museum, Beijing, China (2012); and FINAF International Artist Residency Program, Busan Art Museum, Busan, South Korea. Liang Ban received Jimei x Arles Discovery Award (2016), and Art Sanya Hua Yu Youth Discovery Award (2016).
Liang Ban Lives and works in Beijing, China.