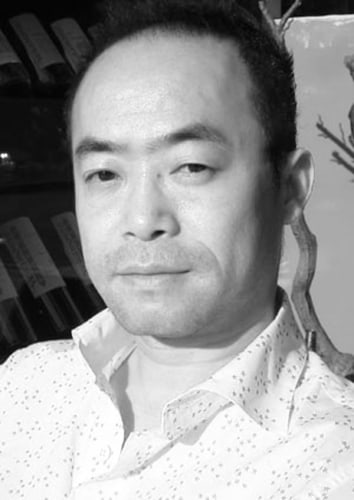 Chen Wenbo was born in Sichuan, China, in 1969. He graduated from the Sichuan Academy of Fine Arts in 1991.
Chen's detailed paintings place him in the Chinese contemporary realist movement, where he and his contemporaries study the quotidian object as centerpiece in their works. For his Epidemiology series, he selected food items and rendered them thickly in bright palettes, highlighting the mirrored gloss of an egg yolk, for example. His recent practice sees a new direction in his observation of the everyday – in these new paintings, he attempts to interrupt natural environments, taking inspiration from Russian critic Mikhail Bakhtin's term 'carnivalesque' where subversion of the dominant takes place.
Chen Wenbo's work is the subject of numerous solo shows including Day and Night, Tang Contemporary Art, Beijing, China (2016); The Fat Years, Klein Sun Gallery, New York, NY (2015); Chen Wenbo: Broken Series, Ullens Center for Contemporary Art, Beijing, China (2009); Back Door: Chen Wenbo 2003, He Xiangning Art Museum, Shenzhen, China (2003) and Chen Wenbo: Vitamines Z, Galerie LOFT, Paris, France (2000). He has also exhibited in group shows such as Just Space, UCCA, Beijing, China (2017); Apperceive of Liberation, WuHan Art Gallery, Wuhan, China (2016-2017); Doctrine of New Capital: Huang Yu Collection Exhibition, Museum of Contemporary Art, Chengdu, China (2016); No Candy to Make Trouble, Yang Art Museum, Beijing, China (2016); Liberated skin/ skin of liberation, Wuhan Art Museum, Wuhan, China (2016); China 8: Contemporary Art from China on the Rhine and Ruhr, NRW-Forum Düsseldorf, Düsseldorf, Germany (2015); Power of the Mass, Minsheng Art Museum, Beijing, China (2015); Re-View, Long Museum, Shanghai, China (2014); Civilization, OCAT Xi'an, Xi'an, China (2014); Broached Retreat, Ullens Contemporary Art Center, Beijing, China (2014); Mahjong: Contemporary Chinese Art from the Sigg Collection, Kunstmuseum, Bern, Switzerland (2005) and Follow Me, Mori Art Museum, Tokyo, Japan (2005).
His work is in major public collections such as the Ullens Foundation, Belgium; Olenska Foundation, Switzerland; Guang Dong Art Museum, China; Uli Sigg Collection, Switzerland; He Xiangning Art Museum, China; the dslcollection, France; and White Rabbit Gallery, Australia.
Chen Wenbo currently lives and works in Beijing, China.